About Us
Company Profile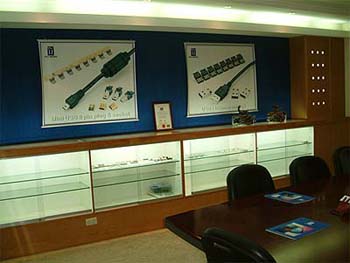 YUE-SHENG was established in 1989, a fine connector manufacturer, especially good at the design and development of Auto Insert-Molding specially.
YUE-SHENG has experience of more than 15 years on the plastic-mould industry and our automatic Insert-Molding technology is higher than the level of the same trade or business. We believe that we can obtain the maximum profit for our customer by our rigorous quality control.
Technology progresses greatly and quality upgrade is the management idea of YUE-SHENG for a long time. From the vertical combine, R&D, test-manufacture to mass producing of the production, we always do our best to meet our customer's requirement in the Electric Connector market. High-quality production and service immediately is the original intention since YUE-SHENG was created.
We Insist that treat every case conscientiously and treasure every chance that the customer offers. We believe that only get hold of every chance and could create next future.
We trust that we are your best choice in your business.
We hope to become the partner with you for ever sincerely.
譽盛精密工業股份有限公司成立於1989年,是一個優良的連接器製造廠商,尤其專精於埋入射出成型Insert-Molding的設計及開發。
譽盛精密工業有超過15年以上的模具經驗及高於同業水準的自動化埋入射出成型(Insert-Molding)技術。在最嚴謹的製程管控下,相信能為客戶爭取最大的利潤。
技術精進與品質提升始終是譽盛精密工業長期秉持的經營理念,因此從產品的垂直整合、開發、試產到正式量產譽盛精密工業都是以最佳的規劃讓客戶及我們的經營更能貼切電子連接器市場的脈動。
高品質的產品、即時的服務,是譽盛精密工業創立以來未曾改變的初衷。我們堅持認真地看待每一個案子,珍惜客戶給予的每一個機會。相信唯有把握住每一個機會才能創造出下一個未來。
我們衷心希望與您成為永久信賴的伙伴,在這充滿競爭的科技洪流中 相互扶持並共創光明的未來!